Industries
Aerospace: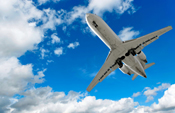 Greenerd provides flexible, dependable hydraulic press solutions that global aviation customers need to compete effectively. New composite parts are helping aerospace manufacturers reduce the weight of planes and increase fuel efficiency. Our comprehensive line of compression molding presses can tackle even the most challenging composite applications, from helicopter hubs to wing components.
Agriculture: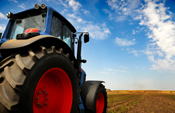 Metalformers and fabricators produce a variety of parts for agricultural needs, including structural components, wear parts, rails, fasteners and clips. Low-carbon steel has been the material of choice for these parts as the industry moves away from hot forming to work with materials that can be cold-worked and heat-treated to maintain higher strength and improved wear resistance. Compression molded parts are increasingly important in this industry as well. They can provide advantages in cost, weight, impact-resistance, and performance across a wide temperature range.
---
Appliance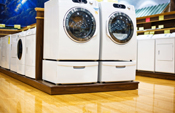 Quality, cost reduction, and time-to-market pressures are omnipresent in the demanding consumer-driven appliance industry. Presses need to be intelligently designed to suit the application in the most optimal way, whether the operation is forming, punching, stamping or bending, etc. Greenerd can design and build a wide range of presses for appliance applications. Press designs may range from small 3 Ton models for secondary operations to 1,000 Ton designs for large, panel-type parts.
---
Automotive: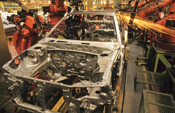 Ever increasing competition in automotive industry demands productivity improvements and unit cost reduction. Greenerd provides high-performance affordable press solutions for automotive manufacturers for both metal and composite forming, from acoustic fabric panels to exhaust parts.
---
Defense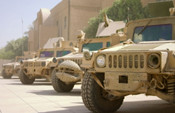 In an increasingly volatile world that demands the utmost in technology for the development of weapons, aircraft, vehicles, and equipment systems, a wide variety of presses are required for hundreds of thousands of components. From tools as small or diverse as 2T Arbor presses to laminating presses or large, multi-platen designs up to 11,500 Tons, Greenerd versatility has been reliably applied in defense solutions for years.


---
---
Forging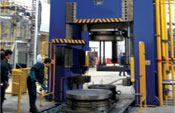 With wide temperature extremes and challenging ambient conditions, the environment can be punishing on forging equipment. Presses require exceptional durability, optimal design features, and maximum uptime. Greenerd has ideal press solutions via manufacturing partner Tianduan, ranging from 200T to 40,000 Tons for forging of parts and the trimming of forged parts.
>>
Forging Trim Press Example Specs/Data/Video

>>
Forging Press Photos

---
Foundry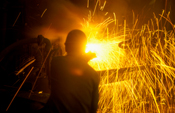 Foundries produce a variety of conventional, precision, and specialized metal castings from investment, to die and sand, each requiring varying capabilities. Greenerd's application and engineering strength is ideally suited to this industry with presses as low as 10T for the trimming of gates, to designs in the 500-1000 Ton range for the trimming of larger or more complex component castings.

---
Heavy Truck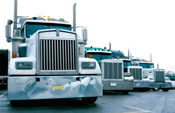 Today's stringent fuel efficiency and emission requirements have forced the heavy truck/ equipment industry to in many cases, produce new component designs out of more exotic materials, creating a wide range of pressworking challenges. Whether you are making brackets or frame work components or larger parts, Greenerd has the ability to answer these hydraulic press design and engineering challenges. By offering a myriad of solutions from 3T to 500Tons in size depending on the components being manufactured and the nature of the operation, Greenerd hydraulic press designs address these industry demands.
---
HVAC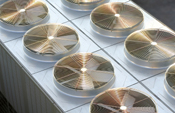 Energy efficiency standards are playing an important role in how HVAC manufacturers are designing their products. As their designs evolve to meet these standards, Greenerd has the engineering expertise necessary to help them identify and build the ideal press to form, blank and punch their components.

---
Mining: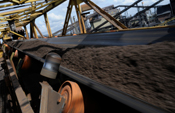 The mining industry is a risky and demanding environment. Components and parts manufactured for this industry must be of the highest-quality to ensure the safety of mining professionals. Greenerd's proven 4 Post design, which minimizes deflection and ensures exceptional and consistent die alignment, allows the presses to consistently produce high-quality parts, such as the large tracks for equipment in coal and ore mining.

---
Other Industries: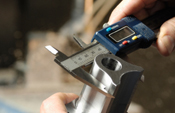 Greenerd's complete line of standard hydraulic presses along with our ability to custom-design a press to suit our customers' specific requirements, allows us to successfully serve a wide variety of industries. Greenerd has a wealth of experience handling a diverse range of applications - from the standard to the challenging or even unique, such as presses for artificial skin or for processing fish blocks. No matter what your business, Greenerd has the expertise to build you the best press for your particular application.
» Compression Molding
» Stamping Battery Substrates
» Compressing Transformer Coils
---