---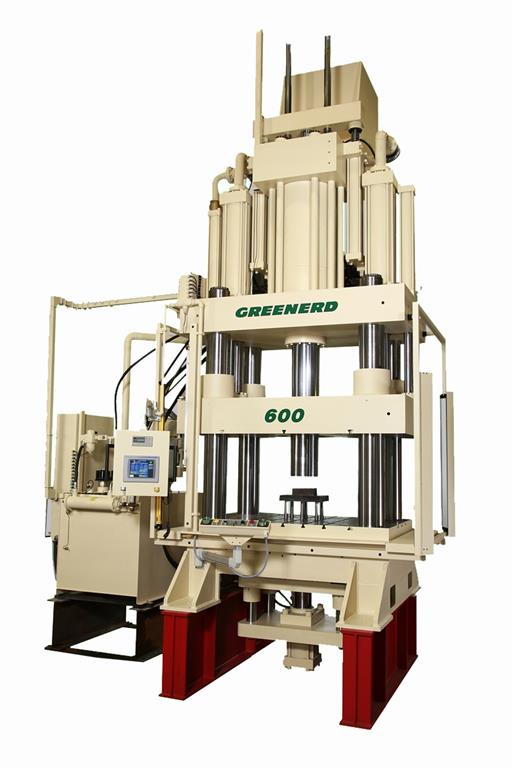 4D-600
Triple acting forming press with a 600 ton main ram, 300 ton blank holder, and 125 ton cushion. Process parameters like blank holder tonnage and draw speed are set through the electronic press control. All three actions of the press are able to adjust throughout the cycle for precise control over forming operations.
Contact Applications Engineering for more information.
E-mail RFQ Form


---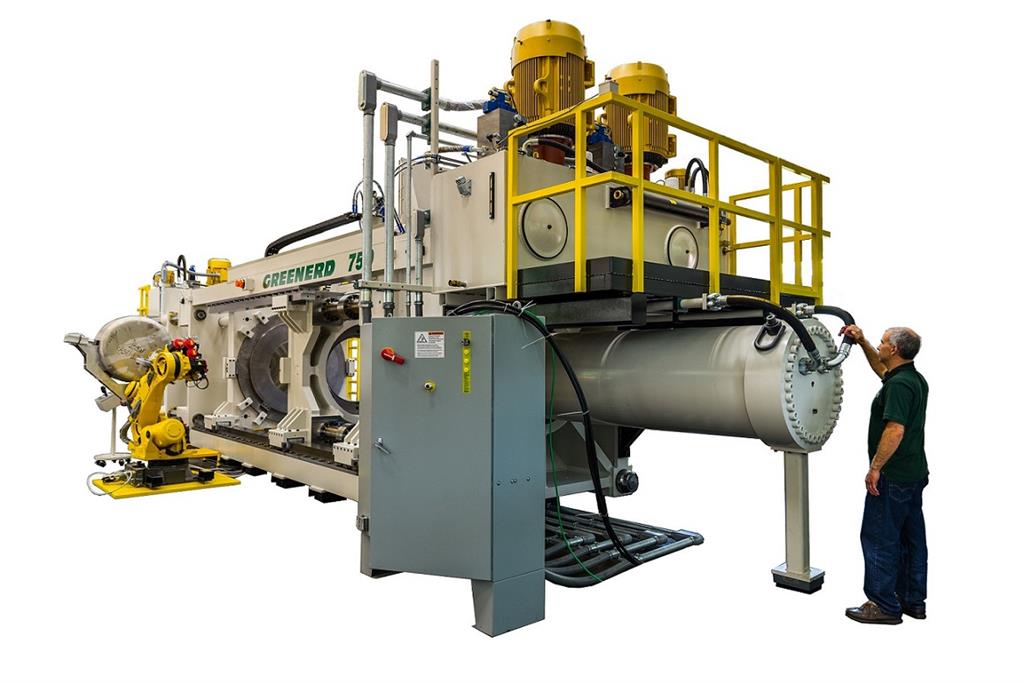 4H-750
Horizontal deep draw press, fully integrated with two 6-Axis robots and auxiliary systems to produce a heavy-duty high pressure cylinder tank. The horizontal four-post gib-guided press has a 750-ton cylinder main ram with a 350-ton cushion. A 9 foot by 9 foot working area that allows for 6 foot diameter blanks to be processed. A maximum open distance of 15 feet accommodates a wide range of product lengths and tooling configurations.

Equipped with a powerful control system featuring user-friendly touch screen functions and set-up parameters. The programmed draws can vary the ram speed and tonnage throughout the stroke. Robots synchronize velocity with press movements to improve quality and maximize productivity. The production cell is controlled from a single workstation with programmed recipes enabling rapid product changeover.
---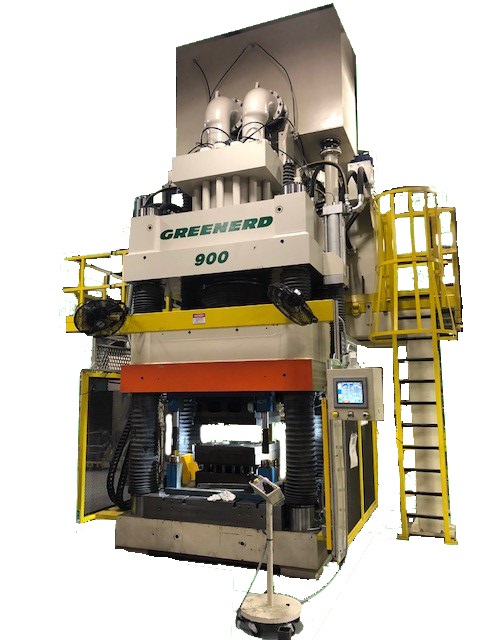 4D-900-700
High speed draw press, equipped with a 900-ton main cylinder and 700-ton cushion for forming of stainless steel. Custom hydraulic system with over 4000 gallons per minute of oil flow during rapid closing and opening to reduce cycle times.
Integrated material handling system with 6-Axis robot for de-stacking, lubricating, and loading of the press. Together the increased speed of the press and automated material handling boosted productivity dramatically.
---
Greenerd Press Control Solutions for Forming
We can incorporate a Greenerd Electronic Press Control into any of our hydraulic presses. Just imagine how the following control functions can improve productivity in your forming operation:
Provide feedback on press functions, including ram speed, dwell time, operating pressures, distances traveled and other process parameters
Perform data acquisition and automate serialized production reporting
Dynamic control of draw speeds and blank holding force
Control auxiliary equipment
Provide remote communications from your process via your buisness network or cellular connection. This capability can be harnessed for press monitoring, remote diagnostics, and trouble-shooting by experienced Greenerd service personnel.