Integration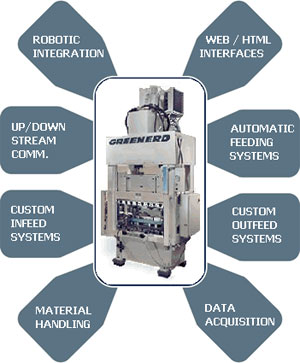 Whether you have an existing Greenerd press or are looking for a new Greenerd press, we are here to help with your integration needs. We have a team of mechanical and electrical engineering experts that have decades of experience integrating presses into a large variety of manufacturing environments.
Our team will work with you (and key vendors) to:
Define your projects integration needs
Design appropriate interfaces
Install
Test
And commission the system
Putting our integration expertise to work for you will increase production rates, decrease material handling costs, and help to improve over-all quality and consistency of your products.
The graphic to the right shows some of the integrations applications we have incorporated into Greenerd presses.